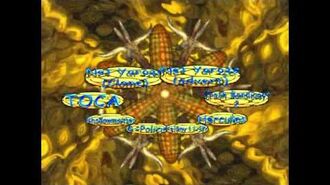 Overview
Edit
The 27th issue of OUKPSM. Released at Christmas 1997.
Interface Info
Edit
Interface Background: The Flower (Green)
Number of Icons: 8
Selection Style: Multi (L/R, M)
Background Music: #2 ('95-'99, Harry Holmwood)
Playables
Edit
Crash Bandicoot 2: Cortex Strikes Back
Felony 11-79
G-Police
Disney's Action Game Featuring Hercules
Shadow Master
TOCA Touring Car Championship
Net Yaroze
Edit
Clone
Introduces the new loading screen (Light Variant).